Team-Building Activities (Low Elements)
Team-Building Initiatives – Start with the basics.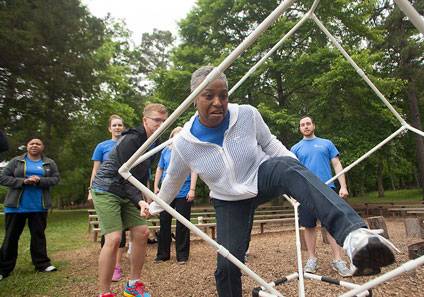 "You can discover more about a person in an hour of play than in a year of conversation" – Plato
Team building initiatives are all ground-based activities that require individual and group input to achieve success. Team building activities are crafted to give a "game-like atmosphere" designed to create a fun and low-risk environment that fosters a sense of team.
We use activities that are all based experiential learning theory, allowing participants to learn through doing. The process of experiential learning involves participating in activities, discussing, and reflecting on the experience, and ultimately incorporating the learned skills into other areas of life.
Our goal is to provide activities that are inclusive and engaging for everyone, regardless of physical ability. Our experienced facilitators carefully choose activities that will be suitable and beneficial for your group's needs.
Want to take it up a notch? Try low-ropes activities!
Low-ropes team-building activities are a type of adventure-based program that are designed to develop:
teamwork
communication
trust
leadership skills
What's involved?
These activities involve participants working together to complete physical challenges that are set up in a low-to-the-ground course. The majority of our low elements are between 12 to 16 inches off the ground and are a great option for when your facilitator thinks the group is ready to take it up a notch.
Low-ropes activities typically involve participants navigating through a series of obstacles, such as:
balance beams
cable walks
bridge building
How do these activities help my team?
These obstacles require your team to work together to plan a strategy, communicate effectively, and support each other as they navigate through the course.
In addition to developing teamwork skills, low-ropes activities also promote risk-taking and problem-solving. Participants must step out of their comfort zone and trust in themselves and their team members as they work together to overcome obstacles and achieve the goal.
Overall, low-ropes team-building activities provide a fun and exciting way for teams to build relationships, develop skills, and foster a sense of unity!
See photos of our low-rope activities!