4-H Outdoor Skills
Arkansas 4-H Shooting Sports Program
The Arkansas 4-H Shooting Sports Program is perfect for kids who are interested in a safe and fun way to get outdoors and learn new skills.
County O-Rama Gun Safety and BB Contest Guide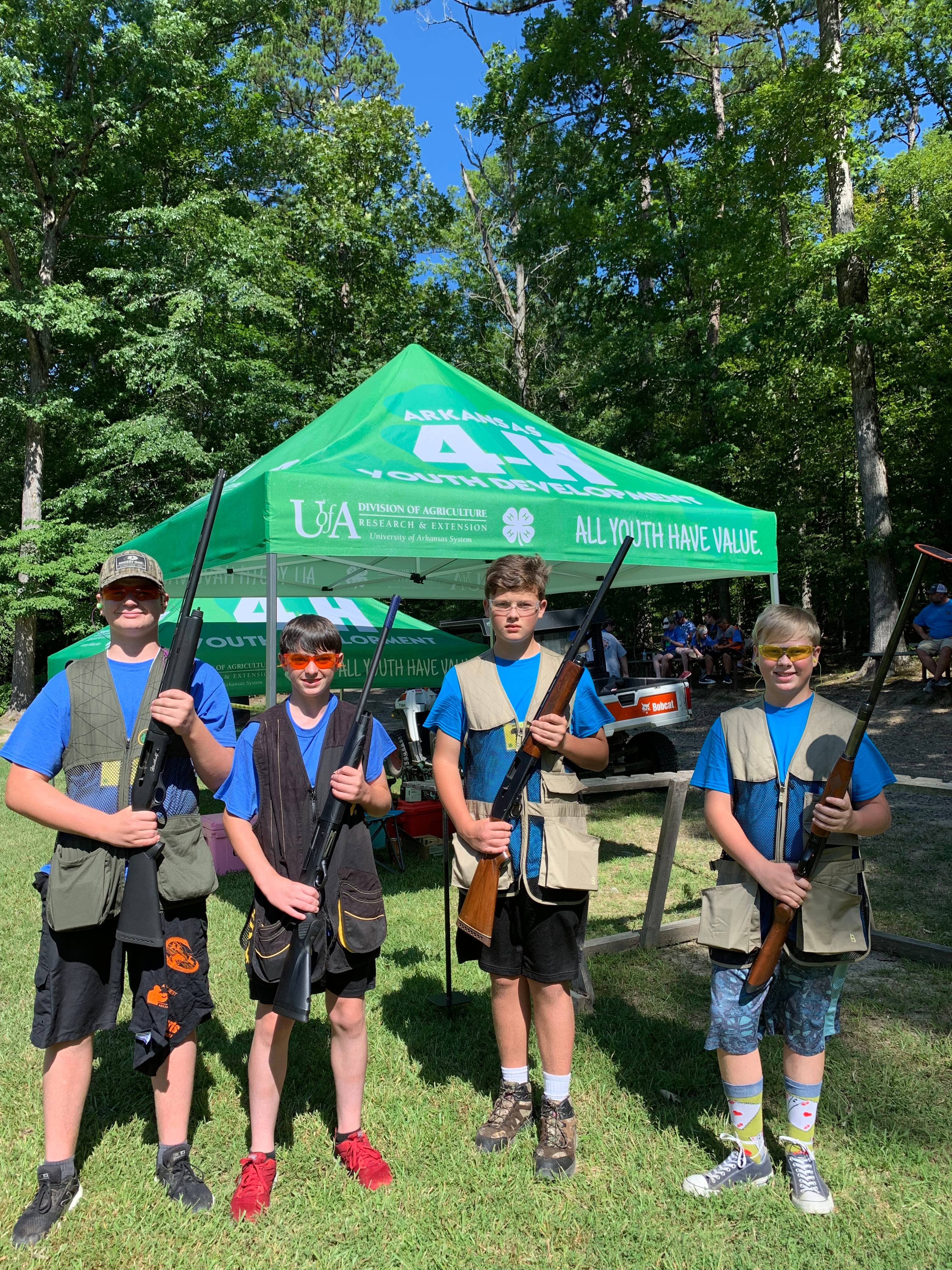 The program is modeled after the National 4-H Shooting Sports Program.
Instruction for the Arkansas 4-H Shooting Sports Program is included in:
Archery - Recurve and Compound
Rifle - BB, Air, and Smallbore
Pistol - Air
Shotgun - Trap, Sporting Clays, and Skeet
Black powder/muzzle loader
Hunting Skills - Wildlife Identification, Orienteering, and Hunters Ed.
Shooting Sports Safety
Safety is the first priority of the Arkansas 4-H Shooting Sports Program. Our procedures and guidelines help ensure 4-H members and leaders stay safe. You can review our official guidelines by clicking the link below.
The program is designed to:
Enhance self-confidence, personal development, discipline, responsibility, and sportsmanship.
Create an appreciation and understanding of natural resources.
Provide volunteer instructors safe and proper instructional techniques and methods to teach youth.
Give youth thorough, safe instruction and training in the use of firearms and teach conservation principles.
Be FUN and SAFE for all participants.
Getting Involved with Shooting Sports
Arkansas 4-H Shooting Sports is a county-delivered 4-H Program. To get involved, you will need to contact your County Extension Office and sign up via the Arkansas 4-H Enrollment & Events System. If your county does not have an active 4-H Shooting Sports Club, contact the state 4-H office at 501-671-2053.
The specific goals and objectives of the 4-H Shooting Sports Program include, but are not limited to, those listed below:
Youth Development is the number one goal and objective of the 4-H Shooting Sports Program, and is achieved by utilizing the tools available through the disciplines of recreational shooting sports.
To enhance development of self-concept, character, personal growth, and life skills through safe, educational and socially acceptable involvement in shooting activities.
To teach safe and responsible handling and storage of firearms and archery equipment at home, on the shooting range, and in the field, including sound decision making, self-discipline and concentration.
To promote the highest standards of safety, sportsmanship and ethical behavior.
To encourage understanding and participation in natural resources and related natural science programs by exposing participants to the content through target shooting, hunting, and related activities.
To expose participants to the broad array of vocational and lifelong avocation activities related to shooting sports.
To complement and enhance the impact of existing safety, shooting, and hunter education programs using experiential education methods and progressive development of skills and abilities.
To provide 4-H adult volunteers with instructor training and certification in shooting sports, and to provide advance training in the various shooting sports disciplines.
4-H Shooting Sports Instructor Training
Shooting sports is an activity which must be conducted with due regard for the safety of participants. Arkansas 4-H Shooting Sports Instructor Training/Certification and 4-H Volunteer Leader Certification are required of all those who want to work with youth in the program.
Arkansas 4-H State Shooting Sports Competitions
This event allows Senior 4-H Members, ages 14-19, to showcase knowledge learned in their trained discipline areas each year. The top placing teams earn the opportunity to represent Arkansas at the 4-H National Shooting Sports Championships in Grand Island, Nebraska.
2023 Event Date - March 21-22
Disciplines - Rifle, Shotgun, Air Rifle, Air Pistol, Hunting Skills, Muzzleloader, and Archery
This event allows both Junior and Senior 4-H members to showcase knowledge learned in their trained discipline areas each year.
2023 Event Date - July 12-14
Disciplines - Rifle, Shotgun, Air Rifle, Air Pistol, Hunting Skills, and Archery
Arkansas 4-H ATV Safety
The video above is called "A trip unplanned." It's a short film on ATV safety covering multiple scenarios and safety issues. These are real world scenarios filmed here in Arkansas.
Serious ATV injuries affect more than 100,000 people each year in the United States. The state of Arkansas averages more than 15 ATV-related deaths per year and has one of the nation's highest rates of injury for those 16 and under.
Close to 90 percent of ATV crashes in Arkansas occur with drivers under age 16 driving an adult-sized ATV (the engine size is greater than 90 cubic centimeters). Recent research demonstrates that children under 16 continue to suffer a disproportionate share of injuries, do not wear helmets and fail to receive formal ATV training. Every child under 16 should be supervised and should never be permitted to ride an adult-sized ATV.
Recommended ATV Safety Gear
DOT-approved motorcycle helmet
Goggles or face shield
Over-the-ankle boots
Sturdy gloves
Long pants
Long-sleeved shirt or jacket
4-H ATV Safety Online Training
Online Courses
ATV Safety Institute (ASI) Online courses are a great way to learn the fundamentals of the ATV riding, with an emphasis on risk management and avoidance. The free online safety courses on the ASI website (www.atvsafety.org) are custom designed for each specific adult, teen (12-15 years old) and youth (6-11 years old) audience.
These online courses are a great way to learn about ATV safety strategies, but you don't have to stop there. Upon completion of the age appropriate ASI Online E-Course, the student can simply show their printed certificate of completion and be eligible to participate in the free, specially designed S Course version of the popular ASI Ridercourse - actually operating and riding ATVs.
To begin your ATV Safety E-Course adventure, simply follow the link (www.atvsafety.org ) and set up an account. It's absolutely free and you can visit the site as many times as you need to finish the course.
To take an actual ASI RiderCourse, call your local county agent or contact the Arkansas 4-H ATV Safety program at 501-671-2053 to check for classes in your area.