Challenge Course (High Elements)
Take it up a notch!
Our challenge course is a tool in helping build better teams. Our philosophy is that the ropes course helps reinforce the team building and low-ropes activities from the morning by providing physical and mental challenges at height.
The challenge course helps delivery a unique, shared experience for individuals and the team. It helps teams develop trust, expands comfort zones, and overall provides a fun experience!
Ropes Course
The ropes course offers 20 distinct obstacles, each posing a unique challenge, and includes two partnered obstacles. Conclude your adventure with a thrilling 300-foot zipline ride, a perfect end to your day.
To utilize the ropes course, we do require the group do a full-day program. This will allow the team to build strong relationships, trust, and a better understanding of each other before tackling the challenges of the ropes course.
Rock Climbing and Giants Ladder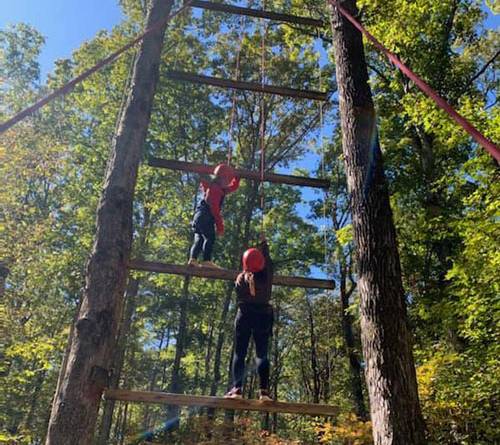 Expanding individual comfort zones and building trust within the group is easily achieved through the rock-climbing tower and giant's ladder. These activities involve a team belay system that requires 5 team members to hold the rope (belay) for a single climber.
At around 40 feet high, the rock-climbing tower boasts three sides, each presenting a greater challenge and requiring more advanced skills to master. The primary side is geared towards those new to the activity or at a beginner level, while the remaining two are designed for more experienced climbers at the proficient to expert level.
The giants ladder is another high element that pairs climbers together to ascend a larger-than-life ladder. Scaling the ladder requires careful planning, clear communication, and precise execution as the rungs become increasingly spaced apart with each step. The giants ladder uses the same team belay that is utilized for rock climbing.
Check out our challenge course photos!
We offer programs for youth and adults.
Ready to book?
Fill out the form below to get started, and someone from our team will contact you shortly.
Questions?
Check out our FAQ page or contact us at (501) 821-6884 or excel@uada.edu.