Science Enrichment Education for Kids
25 Years Working with Arkansas Homeschoolers
Established in 1999, Science Enrichment Education for Kids or SEEK provides experiential learning, through hands-on science lessons, in a fun indoor/outdoor classroom environment.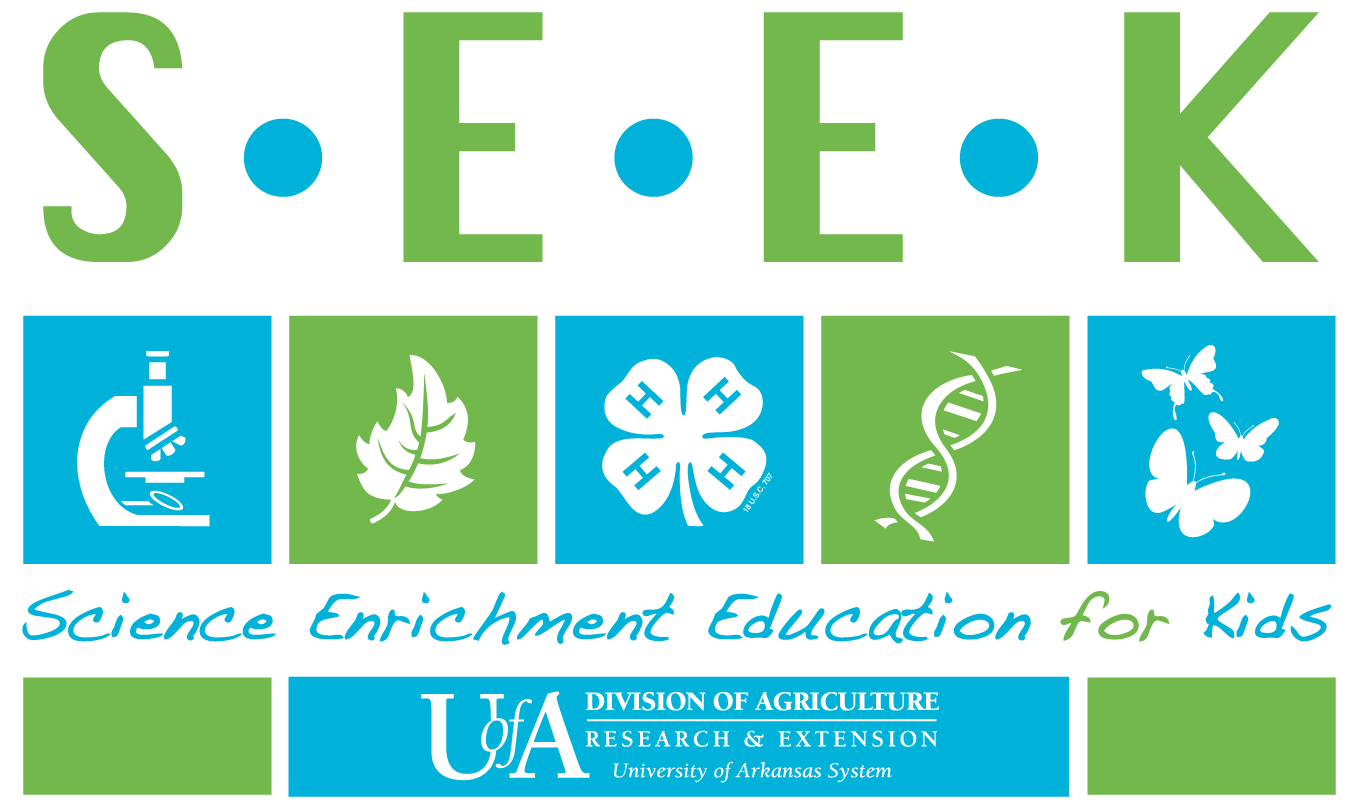 SEEK Goals:
Offer age-appropriate science based curriculum
Incorporate hands-on learning components (labs, experiments, field experiences, and dissections)
Introduce lifelong outdoor recreation activities
Provide an opportunity for social interaction
Teach 4-H Life Skills (teamwork, communication, decision making...)
Summary of 2023-24 plan:
Session is scheduled to begin Tuesday, November 28th and end Friday, March 1st (Off two weeks for Christmas Holiday)
Classes offered Tuesdays, Wednesdays, and Fridays (including High School). You attend once a week
Classes offered: 1st & 2nd grade, 3rd & 4th grade, 5th & 6th grade, 7th & 8th grade, High School Biology (Tuesdays), and NEW for High School... SEEK Leadership Lab (Fridays)
Registration August 15th at 10 am
Registration deposit $50 non-refundable
9:00 a.m. to 2:30 p.m. learning day
SEEK takes place at the C. A. Vines Arkansas 4-H Center
SEEK Registration will open August 15th, 2023 at 10 am.
Register Here Registration Instructions Program Information
What do parents have to say about SEEK?
"My kids LOVED this program! Age-appropriate material, incredible activities, and the highlight...fantastic teachers. Cannot say enough about this program :) "
"My kids love the outdoor, hands on activity that SEEK offers, and have made good friends in their time at SEEK."
"Learning was FUN for them. They would always come home talking about what they learned at SEEK. That is something that textbook science can never do!"
"All [my children] have tremendously benefited. One in particular has discovered a love for science. She also is extremely shy and SEEK has challenged her in a good way."