Congressional Award
The Congressional Award is the highest honor the United States Congress presents to America's civilian youth. It is an individual challenge open to all youth between the ages of 13.5 to 24 -- regardless of background, ability, or grade point average. Arkansas 4-H is partnering with the Congressional Award to make sure our 4-H members receive this prestigious award for the work they do in 4-H.
Participants earn Bronze, Silver, and Gold Congressional Award Certificates and Medals by setting and working towards goals in four program areas: Voluntary Public Service, Personal Development, Physical Fitness, and Expedition/Exploration.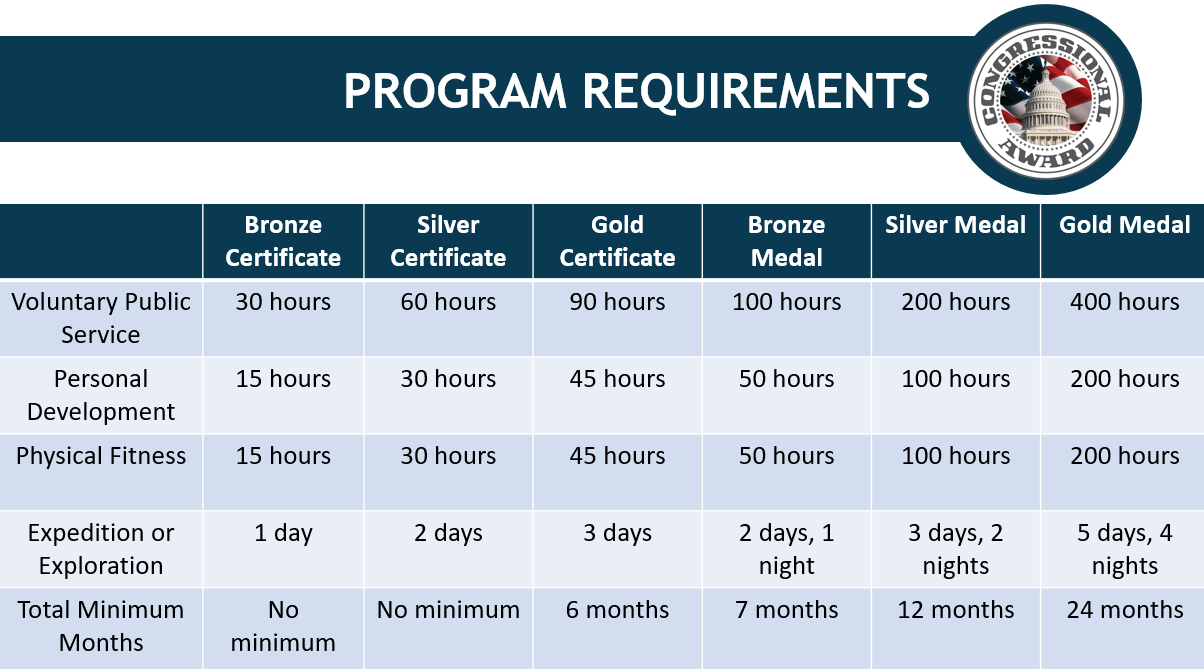 Voluntary Public Service
Serving without compensation
Active volunteering with direct service to the community
Activities must benefit greater community at-large (public organizations, non-partisan, non-religious)
Example: "I will provide a minimum of 100 hours of service under the direction of my 4-H Agent."
Personal Development
Pursue a new activity or advance ability in an existing interest
Consider your 4-H project and activities done within your 4-H project
Examples: "I will improve my photography skills by competing in two photography contests, attending the State 4-H Photography Workshop, shadowing a photographer for 18 hours, and taking pictures at least ten hours every month."
"I will improve my poultry knowledge by learning the differences between the top five most popular chicken breeds, selecting my chickens, caring for them, and showing them at the county fair."
Physical Fitness
Goals cannot be competitive
4-H fitness projects are an excellent fit
Include current fitness level and determine where you'd like to advance
Examples: "I will improve my basketball skills so that my free-throw percentage will increase from 35 to 40 percent."
"I can presently jog 1 mile in 15 minutes and I intend to improve my time to 10.5 minutes per mile."
Expedition/Exploration
Expedition: Discover the great outdoors
Exploration: Experience culture, history, humanity
Every Exploration/Expedition is reviewed for Planning, Immersion, and Challenge
Expeditions and Explorations are all about adventure and discovery. Participants should plan, prepare, and be responsible. Pre-planned activities, or "Sign Up and Go" type trips would not qualify.
Family vacations are fun and relaxing, but there must be a level of challenge and discovery involved with the trip to count as an Expedition/Exploration.
Examples: Canoe trip, camping, shadow a person with a physical impairment, live the life of a ranch hand, explore a historical area or culture, spend a week living with a family from a different background than you
"I will spend two days and one night in Hot Springs, Arkansas learning about the history of Hot Springs from the Civil War era to the modern age. Specifically, I will focus on Hot Springs as a former home to Major League Baseball spring training, illegal gambling, speakeasies and gangsters, such as Al Capone."
How to Get Involved
1. Register online at http://congressionalaward.org *
2. Meet with your County Agent or 4-H Program Assistant to set goals
3. Record your progress as you complete hours
4. Complete your Record Book online
*Registration fee can be waived for youth on free/reduced lunch.
Resources