Citizenship Washington Focus
National Leadership Workshop
Citizenship Washington Focus (CWF) is an annual trip offered to senior 4-H youth (Ages 14-19) to visit Washington D.C. for one week while improving their leadership skills and talents. While in D.C. the delegates will get a behind-the-scenes look at our nations capital, they will meet members of Congress, develop communication, leadership & citizenship skills, and leave Washington D.C. with a new sense of confidence.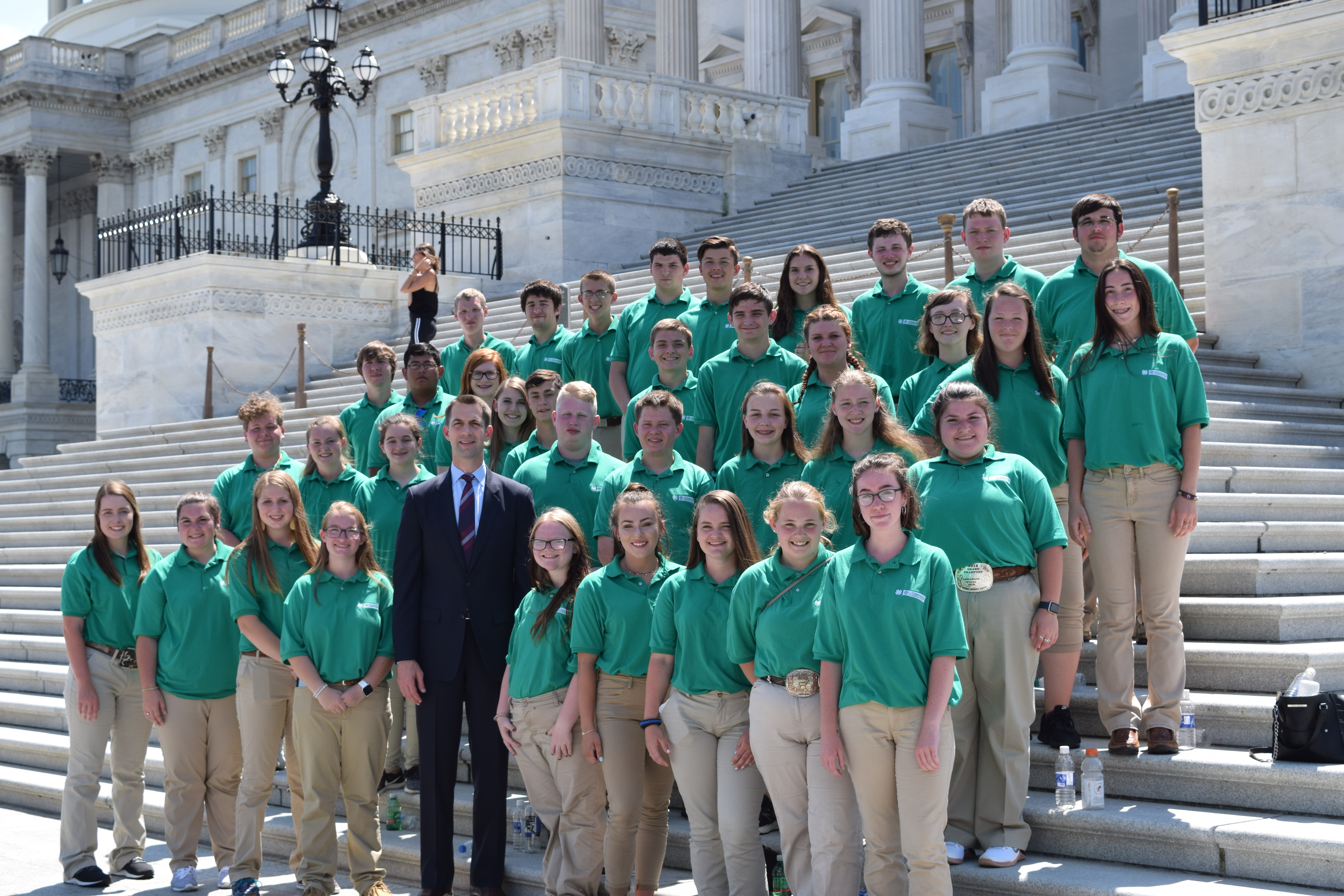 The Arkansas 4-H youth delegation of Citizenship Washington Focus meet with Senator Tom Cotton in Washington D.C. on the steps of the U.S. Capitol Building.
While attending the CWF experience, the Arkansas delegates will engage in workshops with 4-H youth from other states. Workshops include:
Action Planning
Congressional Issues
The CWF Experience
Safety is first and foremost when our youth are in the nation's Capitol.
Tours are provided by highly trained and licensed program assistants, many who are former 4-Hers! These program assistants also lead fun activities that focus on leadership through hands-on activities.
While in the Capitol, 4-H'ers visit several historically significant sites and monuments, attend a cultural event and meet politicians from Arkansas and from across the nation.
Tours Include:
Mount Vernon
The Smithsonian Museums
The Capitol Building
World War II Memorial
Vietnam Memorial
Korean Conflict Memorial
The Holocaust Museum
Pentagon's 9-11 Memorial
Air Force and Marine Memorials
2023 CWF TRIP
Dates: June 24 - 30, 2023
Cost: $1,600 (includes most meals, lodging, transportation, shirts, and a cultural event)